Masan among Forbes Vietnam's list of top 50 listed firms for 9th year
Xuan Thinh
Saturday |

12/11/2021 09:00
---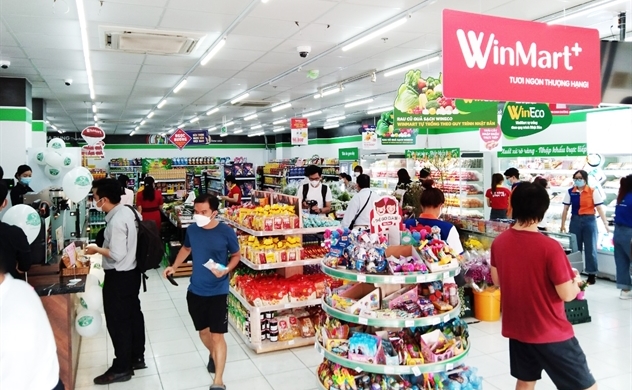 Masan aims to have 3,300 - 3,600 WinMart+ stores by the end of 2022. Photo: Masan
Masan Group Corporation (HSX: MSN) has been named among the top 50 listed companies 2021 by Forbes Vietnam for the 9th consecutive year.
Despite the COVID-19 pandemic, the companies included in the list have sought business opportunities, achieved good results and contributed to the country's economic development.
Companies in the "list of top 50 listed firms" in 2021 announced by Forbes Vietnam had been selected strictly from a number of public companies on the Hanoi Stock Exchange and Ho Chi Minh City Stock Exchange. In the preliminary round, the candidates need to meet basic conditions such as getting profit in 2020, minimum revenue and market capitalization at VND500 billion.
In the next round, Forbes Vietnam made the assessment based on such indicators as Compound Annual Growth Rate (CAGR), Return On Equity (ROE), Return On Capital (ROC) and Earning Per Share (EPS) during the 2016-2020 period.
In order to get qualified companies for the list, Forbes Vietnam conducted a survey to assess the sustainability of enterprises including company's sector position, source of profits, quality of corporate governance, and the prospects for further development...
Companies in the Forbes Vietnam's list of top 50 listed firms achieved a record in after-tax profit. Total after-tax profit of the companies reached VND174,510 billion, up 25.8% from a year earlier.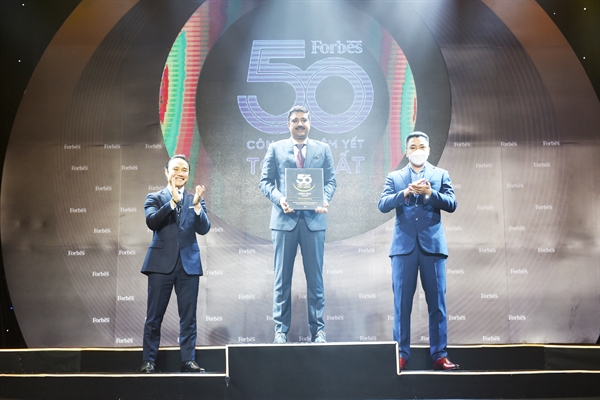 Masan among Forbes Vietnam's list of top 50 listed firms for 9th year. Photo: Masan
As one of top 50 best listed companies in Vietnam in 2021, Masan Group had made efforts to overcome the negative impacts from the COVID-19 pandemic while maintaining production and business activities for the essential consumption needs of the people.
The conglomerate's outstanding business results have proved its strategy in transforming sale to online from offline, diversifying products to meet modern consumer demands. In the first nine months of 2021, Masan reported VND64,801 billion in revenue, completing 70.4% of the revenue target.
After-tax profit reached VND2,126 billion, completing 85% of the VND2,500-billion profit target for 2021. Profits of Masan Consumer grew by 14.3%, Masan MEATLife by 32.8%, Masan High-Tech Materials by 89.3%. WinCommerce's profit increased by 21.2% over the same period.
Ramping up "Point of Life" strategy
In 2H2021, Masan piloted mini-mall concept, combining WinMart+ (grocery), Phuc Long Kiosk (coffee and tea), Phano pharmacy, Techcombank transaction point and Reddi (mobile telecommunication) into an integrated offering. Given the initial success of the mini-mall pilot, management plans to scale up this concept.
The entry into the telecommunication sector lays the foundation to digitalize Masan's platforms and build a unified off to online products and services solution, "Point of Life" consumer ecosystem. By unifying its consumer base via Reddi, Masan has the capability to create a sticky loyalty platform to deliver more value to its consumers – the only consumer ecosystem that spans grocery, financial and digital life accounting for approximately 80% of the consumer wallet.     
Masan has outlined a preliminary 2022 plan to re-expand the number of mini-market locations (Winmart+) by 700-1,000 in 2022 to reach 3,300-3,600 in total by year end. Masan also have plans to convert at least 50% of its existing Winmart+ locations into mini-malls.
Since implementing the model, Masan has recorded a significant growth in customer traffic and profits at WCM points of sale. The revenue/m2/month of the whole WMP system increased by 44% in Q3/2021 thanks to the sales points in HCMC and Hanoi.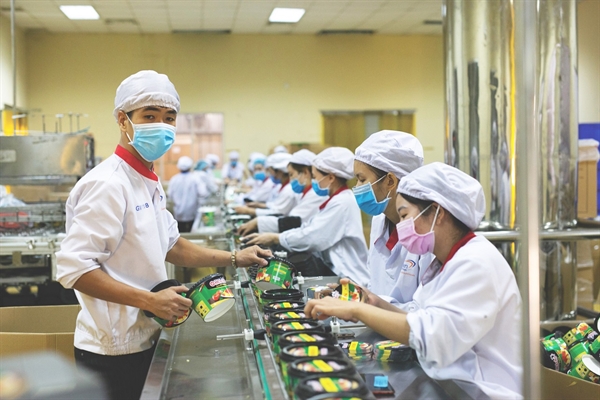 Omachi noodle production line. Photo: Masan
Positioned for long-term growth via innovate portfolio
36 new innovations launched in the first 9 months of 2021 accounted for 21.9% of the growth at Masan Consumer Holdings during this period. It is expected that the new innovations launched in the fourth quarter of 2021 will continue to contribute to the outstanding growth of the overall revenue of 2021.
At Masan MEATLife, integrated pork and chicken meat segment (excluding feed) achieved VND3,330 billion in net revenue in 9M2021. MEATDeli, MML's branded pork business (excluding farm, 3F Viet, and feed), achieved its first ever positive NPAT Post-MI in 3Q2021.
Newly launched products (processed chilled meat, marinated chilled meat) take full advantage of the outstanding distribution channel advantages of the nearly 2,500 WinMart/WinMart+ system nationwide. Masan has set a target that by 2025, the company will reach 10% market share of meat market (including pork and poultry) worth USD 15 billion and EBITDA margin of over 20%.
Masan's Point of Life strategy attracts foreign investment
In 2021, Masan signed agreements with major investors. In just one year, SK Group injected nearly $800 million to buy shares of The CrownX and WinCommerce. In May 2021, a group of investors, including Alibaba and Baring Private Equity Asia, spent $400 million to buy 5.5% shares of The CrownX.
With brighter business results, Masan announced to increase cash dividends in 2021 by 20% and plans to issue bonus shares with the ratio 5:1.
Viet Capital Securities Company (VCSC) has issued a "buy" recommendation for MSN stock and set a target price of this stock at VND186,000/share in its recent report. On December 10, MSN stock is fluctuating around the price range of VND 154,000/share.