Lazada Logistics Vietnam opens sorting center in Binh Duong
Phuong Hoa
Monday |

03/27/2023 10:58
---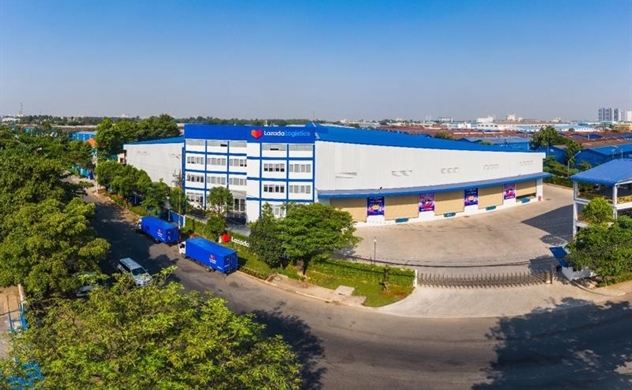 Lazada Logistics Park. Source: Lazada.
Latest sorting center seen as an important step forward in Vietnam's e-commerce logistics industry.
Lazada Logistics Vietnam officially opened the Lazada Logistics Park - the newest sorting center of Lazada Logistics Vietnam - at the Song Than 1 Industrial Park in southern Binh Duong province on March 23.
The new center covers a total area of nearly 20,000 sq m and is powered by AI, machine learning, and automation technology, which is used in almost every stage of the process. With the capacity to process more than 1 million parcels a day, Lazada Logistics Park is poised to meet the increasing demand of Vietnamese online shoppers and support the growth of Vietnam's digital economy.
Many outstanding technology applications are in use at the Park. By investing methodically in infrastructure with modern equipment and automation technology, it can help improve operational efficiency and reduce labor costs, optimize accuracy, enhance order tracking and traceability, reduce emissions, and protect the environment.
Speaking at the opening ceremony, Mr. Vu Duc Thinh, CEO of Lazada Logistics Vietnam, said the new sorting center is not only a breakthrough in the development of Lazada Logistics but also marks an important step forward in Vietnam's e-commerce logistics industry.
"We aim to bring our customers the best online shopping experience and convenience, with the fastest and most reliable delivery," said Mr. Thinh. "We believe that with these efforts, Lazada Logistics will actively contribute to building a sustainable e-commerce logistics ecosystem, setting new standards and further promoting the industry's overall development."
Over the past decade, Lazada has made strong investments in building modern and sustainable logistics infrastructure. In Vietnam, Lazada Logistics owns a network of sorting centers, warehouses for storing and handling goods, and post offices totaling over 150,000 sq m. It has built many sorting centers in Ho Chi Minh City and Hanoi, along with a network of hundreds of post offices in cities and provinces, ensuring goods are handled to high standards and delivered as quickly as possible.
It also has thousands of drop-off points through associations with partners, together with hundreds of collection points and a smart locker system. With solid infrastructure, Lazada Logistics is rising to become one of the leading shipping units able to deliver goods smoothly and quickly to millions of customers nationwide.
Source: VnEconomy
Same category news