Japan's SMFG to invest $1.5bn in Vietnam's VP Bank in Asia push
Haruki Kitagawa
Monday |

03/27/2023 21:00
---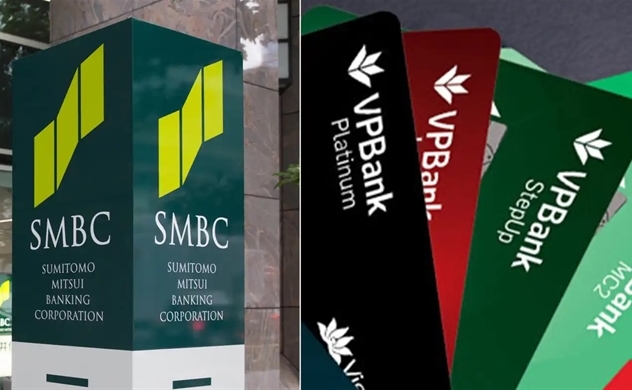 VP Bank will become Sumitomo Mitsui's equity-method affiliate. Sumitomo Mitsui will send executives and others to the Vietnamese bank. Photo by AP.
Japanese financial group bets on growing market to compete with rivals at home.
Japan's Sumitomo Mitsui Financial Group is set to invest about 35.9 trillion Vietnamese dong ($1.5 billion) in a major bank in Vietnam. The group has been investing in the financial institutions of Asian countries that are expected to experience high rates of economic growth.
The investment will give Sumitomo Mitsui a 15% stake in the bank, making it effectively the largest shareholder.
Sumitomo Mitsui Banking Corporation, a subsidiary of SMFG, will subscribe to a third-party allotment of new shares by VP Bank.
VP Bank's net profit for the year ending Dec. 31, 2022, was approximately 18.1 trillion dong, the second-largest among private banks in Vietnam. It holds about 631 trillion dong worth of assets, and it is listed on the Vietnamese stock market.
VP Bank's forte is in lending to local small and midsize companies and personal loans. By collaborating with SMBC, which provides loans to large corporations in Vietnam, including overseas companies expanding into the country, VP Bank expects to attract a wide range of customers.
The Vietnamese bank will become Sumitomo Mitsui's equity-method affiliate. The Japanese megabank group will dispatch executives and other personnel.
SMBC rivals Mitsubishi UFJ Financial Group and Mizuho Financial Group have invested in major banks in Vietnam. Sumitomo Mitsui Financial Group also invested in Vietnam Eximbank, a midsize Vietnamese bank, in 2008. However, it was unable to achieve the growth that it wanted, and it began selling those shares in January 2023.
In 2021, Sumitomo Mitsui Financial Group used its consumer finance arm to take a 49% stake in a consumer finance institution under the VP Bank umbrella. In 2022 the group entered into a business tie-up with VP Bank that did not involve a capital relationship.
By investing in VP Bank, with which it already has a deep relationship, Sumitomo Mitsui aims to compete with its rivals in Asia.
Sumitomo Mitsui can introduce its client companies that want to enter the Vietnamese market to VP Bank and support their business operations in Vietnam, including through collaboration with local companies.
SMBC will share its expertise in structured finance and environment-related lending with VP Bank to encourage further growth.
Sumitomo Mitsui Financial Group is involved in digital finance in Indonesia and other Asian countries, and it expects synergies with VP Bank, which has its own expertise in digital services for individuals.
VP Bank has been growing rapidly. In the period that ended December 2022, it saw a 55% increase in net income from the previous period. Its lending is growing quickly, and its loan margin is also high compared to other Vietnamese banks.
Although state-owned banks are a major presence in Vietnam, Sumitomo Mitsui decided that the private VP Bank was an attractive business partner because of the high degree of freedom in its operations.
Source: Nikkei Asia
Same category news