ITL takes the lead in making Vietnam's logistics globally integrated
Khanh Minh
Monday |

11/20/2023 10:13
---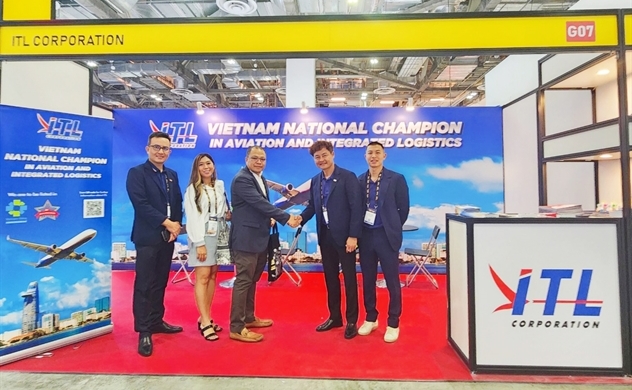 ITL's booth welcomed hundreds of customers and partners during the three-day event
ITL, a Vietnamese representative, participated in Singapore's "Transport Logistic Southeast Asia" and "Air Cargo Southeast Asia" exhibitions, highlighting its pioneering role in transforming Vietnam into a regional transit hub.
Leading companies in transport logistics and air cargo industry gathered at the "Transport Logistic Southeast Asia" and "Air Cargo Southeast Asia" exhibition in Singapore for discussions and solutions.
The event took place amid reports expecting market size of the Asia-Pacific transportation and logistics industry reaching $3.35 trillion by 2023 and $4.56 trillion by 2029, with a growth rate of 5.24% from 2023 to 2029, according to Mordor Intelligence.
Post-pandemic challenges and China Plus One supply chain strategy to diversify manufacturing and sourcing operations beyond China make Southeast Asia outstanding. "Southeast Asia is a dynamic hub for trade and commerce. The transport logistics Southeast Asia gives visitors access to a wide range of market opportunities", said MMI Asia CEO Michael Wilton, the organizer of the events.
In this region, besides leading hubs like Singapore, Thailand, or Malaysia, Vietnam is emerging as a new transit hub for goods, contributing to the expansion of international trade flows.
General Department of Vietnam Customs stated that Vietnam's total trade turnover in the first ten months reached $558.33 billion. In terms of volume, goods through seaports were estimated to reach 624.559 million tons, an increase of 3% compared to the same period in 2022, according to the Vietnam Maritime Administration.
Meanwhile, the average annual volume of goods transported by air in Vietnam is about 1.4 million tons. In the first nine months of the year alone, the total volume of goods through Vietnam's airports was 887.500 tons, with international cargo transportation accounting for 637.000 tons and domestic cargo transportation reached 250.400 tons, according to the Civil Aviation Authority of Vietnam.
"Vietnam is the largest manufacturing hub in the region. Therefore, collecting goods in Vietnam is more meaningful than in Cambodia, Laos, or elsewhere. Moreover, Vietnam is becoming a more strategic market to many companies, especially American companies," said Alexander Olsen, Vice President of Freight Management and Commercial of ITL.
The proactive approach of pioneers in the logistics industry also significantly contributes to forming a new transit hub for goods in Vietnam. As one of the two representatives attending "Transport Logistic Southeast Asia" and "Air Cargo Southeast Asia," ITL's 18m2 booth welcomed hundreds of customers and partners during the three-day event. ITL not only showed its capabilities but also provided international customers with the latest market updates about Vietnam.
With over 5 ports, ICDs, 500 trucks, 30 barges, and a warehouse area of nearly 500,000 m2, ITL provides logistics solutions such as international End2End cargo transportation and Cold Chain services. It offers seamless services covering sea, land, and air, meeting customer demands.
Many customers want Vietnam to be the transit hub for goods manufactured in Cambodia, Myanmar, Laos, and Vietnam, making it the center for the Indochina region. ITL plans to continue developing comprehensive integrated logistics services to support businesses' cargo transportation and integrate Vietnam's air cargo transportation industry into the global market.
Same category news