Hong Kong firm becomes major shareholder in Vietnam wood major Truong Thanh
Trang Nguyen
Thursday |

05/18/2023 22:30
---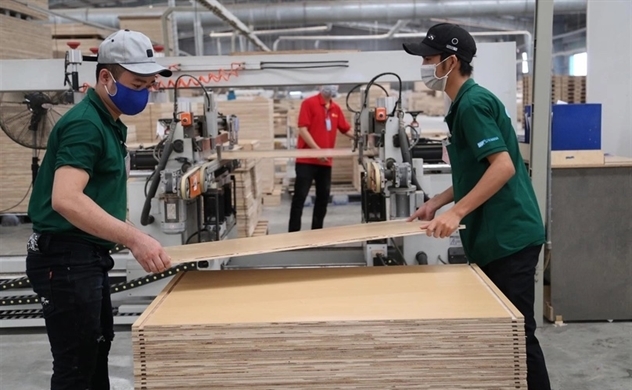 Truong Thanh Furniture Corporation's plywood. Photo courtesy of the company.
Hong Kong-based Excelsior Oak Limited bought 1.52 million TTF shares of Truong Thanh on May 12, raising its ownership ratio from 4.69% to 5.06%, equivalent to more than 20.8 million shares.
The transaction makes Excelsior Oak Limited a major shareholder in the furniture producer, listed on the Ho Chi Minh Stock Exchange (HoSE) as TTF.
In the first quarter of 2023, Vietnam's leading furniture maker Truong Thanh recorded net revenue of VND331 billion ($14 million), down 38% year-on-year, and after-tax profit of VND1.8 billion ($76,800), down 90%.
The company sets a revenue target of VND2.22 trillion ($94.75 million) in 2023, up 10.3%, and after-tax profit of VND54 billion ($2.3 million), up 14.86 times.
Despite a slight profit in Q1, by March 31, 2023, it had accumulated losses of VND3.07 trillion ($131 million), equal to 74.7% of charter capital.
As of March 31, 2023, Truong Thanh's assets had stood at VND3.05 trillion ($130 million), up 1.5% compared to the beginning of the year. In which, inventory was VND646 billion ($27.55 million), accounting for 21.2%.
On the HoSE, the TTF share price hit VND4,810 ($0.2) at Wednesday's close.
By the end of 2022, Truong Thanh owned a 19.2% stake at wooden furniture producer Tekcom Joint Stock Company.
Tekcom, established in 2005, is a leading company in Vietnam's plywood manufacturing industry. The firm's data released in 2016 showed that Tekcom accounted for 60% of Vietnam's plywood export revenue and 19% of domestic market share.
Tekcom curently owns two factories located in Nam Tan Uyen Industrial Park, Binh Duong province with a total area of 115,000 m2, specializing in manufacturing plywood and film-coated boards for the interior and exterior wood industry.
As of March 2021, Tekcom's charter capital had increased to VND240 billion ($10.2 million) with the addition of Excelsior Oak Limited which held a 25% stake. Truong Thanh chairman Mai Huu Tin said that this foreign shareholder had increased its ownership rate in Tekcom to 34% by April 2022.
Source: The Investor
Same category news