Dung Quat refinery operator expects 89% profit drop in 2023
Trang Nguyen
Wednesday |

03/15/2023 16:30
---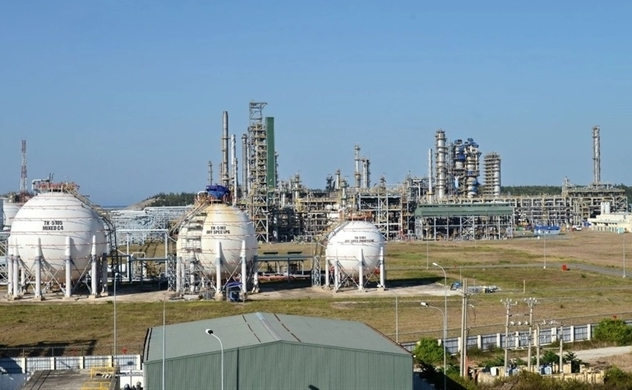 Dung Quat oil refinery in Quang Ngai province, central Vietnam. Photo courtesy of BSR.
Binh Son Refining and Petrochemical JSC, operator of Vietnam's first oil refinery Dung Quat, aims for an after-tax profit of VND1,628 billion ($69 million) in 2023, down 89% year-on-year.
The company, registered on the unlisted public company market UPCoM as BSR, targets a net consolidated revenue of VND95,545 billion ($4.05 billion), down 43%, according to its 2023 business plan.
The targets were based on its assumption that the Brent oil price is $70 per barrel, and the USD/VND exchange rate, VND23,500.
The current Brent oil price is $77.5 per barrel, according to data delivery platform Investing.com. On Wednesday morning, a U.S dollar is sold for VND23,750 at Vietcombank, a "Big 4" bank in Vietnam.
BSR's sales volume in 2023 is expected to reach more than 5.6 million tons, of which nearly 2.4 million tons are diesel oil and nearly 1.4 million tons RON 95 gasoline.
In 2023, the company plans to spend nearly VND1,623 billion ($68.82 million) on investment. Of this, nearly VND955 billion will be used for upgrading and expanding the Dung Quat oil refinery, and nearly VND579 billion for purchasing equipment and fixed assets.
BSR earned a post-tax profit of VND14,394 billion ($613.8 million) in 2022, up 115.4% year-on-year and a revenue of VND167,123 billion ($7.13 billion), up 65.34%.
As a result, the business exceeded its revenue and profit targets by 82% and 11 times, respectively.
The BSR share price was VND15,600 ($0.66) per unit at Monday's closing session.
Vietnam has two operational oil refineries - the Nghi Son Refinery and Petrochemical complex in Thanh Hoa province and the Dung Quat Refinery in Quang Ngai province, both in the central region.
Nghi Son is a $9 billion refinery co-owned by Petrovietnam, Kuwait Petroleum Europe B.V. (KPE), and Japan's Mitsui Chemical and Idemitsu Kosan Co. Dung Quat Refinery is a Petrovietnam subsidiary and has received more than $3 billion in investments.
Source: The Investor