De Heus and Hung Nhon invest in hi-tech pig, chicken farm in Dak Lak
Xuan Thinh
Monday |

09/28/2020 10:09
---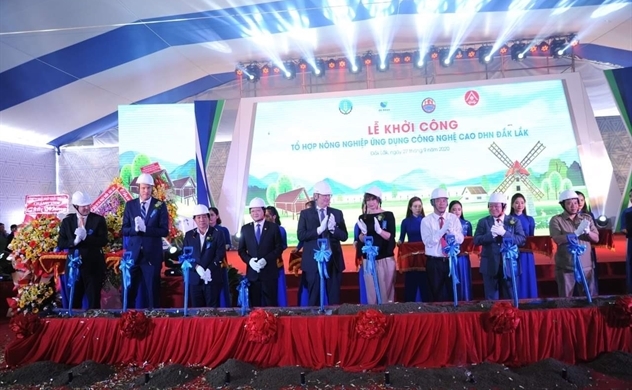 Photo: DHN Dak Lak
Netherland-based De Heus Group and local Hung Nhon Group has begun construction of Vietnam's first closed production chain of pigs, chicken and animal feed in Central Highland province of Dak Lak.
The Agricultural High-tech Area DHN Dak Lak, which was invested with $66 million, is an important element and a core model of a closed production chain of high quality agricultural products including selection and production of breeding pigs, breeding chickens, automatic pig slaughter plant.
Beside, it produces animal feed, organic fertilizer and trades Vietnam's leading quality livestock products and aim to export to Southeast Asian market, statement said.
The high-tech agriculture complex which will be built on 200 hectares of land is expected to create jobs for 250-300 ethnic minorities in the province.
It will also help training qualified human resources on high-value feeding, organic farming based on modern technology, contributing to the overall economic development of the province. The project develops a modern animal feeding model to serve as a standard model for the Central Highlands Region, Southeast Region and other regions in Vietnam.
Especially, the project is also invested with the solar power system for production activities, contributing to saving production costs and protecting the environment in accordance with the global trend. It demonstrates De Heus' commitment to providing clean and sustainable products from its animal feed to high-quality breed.The farm project, after being completed, will create a fast and reliable supply of high-quality pig breeds for the Central Highlands and Southeast regions, where there is a great demand for breeding pigs. In the long-term strategy, De Heus & Hung Nhon also aim to build a value chain and disease-free area in Dak Lak and surrounding areas.
In the next 5 to 10 years, De Heus Group and Hung Nhon Group will continue to cooperate to expand and develop a network of large-scale breeding projects in large scale and free-disease areas in 5 provinces in the Central Highlands.
After completing the project in Gia Lai, the next will be implemented in Dak Nong, Kon Tum and Lam Dong, increasing the total capacity to 10,000 to 15,000 breeding GGPs, and from 100,000 to 120,000 breeding GPs.
The completed chain of projects will contribute to shape the Central Highlands to become the leading center in supplying breeding pigs and developing high-tech feeding models in Southeast Asia and Asia.