C.T Group makes the attractiveness with the party "appreciation of good seeds"
Hoang Phuong
Thursday |

05/13/2021 09:57
---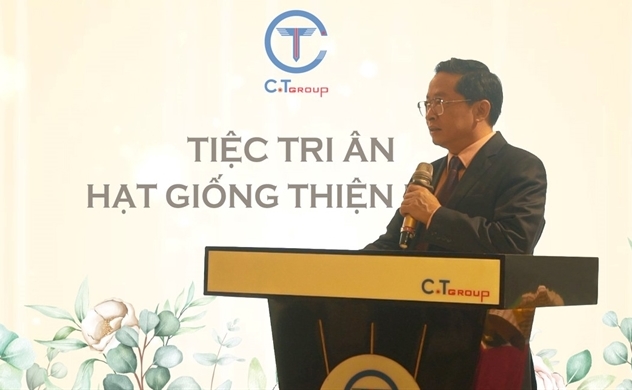 Mr. Tran Kim Chung - Chairman of C.T Group, shares a three-dimensional perspective in the connection between 3 parties: University, Human Resource Developer and Investor in Human
C.T Group organsied an event to promote cooperation between university, human resource developer and investor in human.
Recently, at Léman Luxury building, C.T Group held an appreciation party called "Good Seeds" with the participation of Leaders of Prestigious Universities such as University of Economics Ho Chi Minh City, Ho Chi Minh City University of Technology, Foreign Trade University, Open University, Ho Chi Minh City University of Social Sciences and Humanities, Ho Chi Minh City University of Law, Hong Bang University, University of Natural Sciences, etc. and nearly 30 leading recruiters in Vietnam such as Vietnamworks, CareerBuilder, Base Interpise, JAC, etc.
At the party, Mr. Tran Kim Chung - Chairman of C.T Group, shared a unique three-dimensional perspective in the connection between 3 parties: University, Human Resource Developer and Investor in Human.
With nearly 30 years of operation, in addition to investment, construction and comprehensive urban development, C.T Group also has another happy mission of human development, making employees become real owners of the Group and society. Thereby, leading the society towards the good and nice things.
Together with C.T Group today, prestigious universities, leading human resource developers in Vietnam are sowing "good seeds" ... Ms. Kim Trang - Representative of CareerBuilder- the unit has always accompanied, brought to C.T Group a lot of talented people, expressed: "We are very pleased to hear Chairman Tran Kim Chung sharing promising and highly social business plans. In particular, with the motto of not only focusing on business but also towards to "truthfulness, goodness and beauty" to contribute to the development of society and community, CareerBuilder is grateful for the spirit of sincere and open-minded cooperation, willing to accompany and share of C.T Group in recent years. Hopefully, the both parties will always be a reliable, sustainable partner and accompany for mutual development ".
At the event, Mr. Tran Kim Chung - Chairman of C.T Group shared: "During the past 30 years, we are very proud to have trained so many officials for the society and currently, they hold important positions. When it comes to C.T Group, they always have joy, pride and deep memories. I believe that this is the good seed that we have sown over the past 30 years".
In addition to gratitude to partners and friends who have joined hands with the Group in sowing good seeds for society, C.T Group also implements annual cooperation programs with universities in Ho Chi Minh City to award many internships with high income for students who have difficult circumstances but have the will and fondness of learning, get excellent achievements in learning, etc. This activity also receives positive responses and participation from prestigious universities.
Also at the event, the representative of CT Group introduced a little about housing solution for young people because now, just searching for the keyword "lack of affordable house", there are 34 million results in less than 1 second. Housing demand is too great, but the product line of affordable house is nearly extinct and almost no unit wants to make this product because it does not bring high economic efficiency. However, C.T Group is trying very hard to launch a product line called DIYAS - a product line for young people as well as employed people.
 "And the units here also have more or less common concerns with us in the issue of how to help employed people and young families in the best way. We believe that, when you finish exploring DIYAS product, you will feel that we need to do something for the employed people, the young people who have a simple desire of a good and stable place to live and work. This may not be done by anyone, but we will do it and do it well. We will develop about 20,000 products along Metro Line 2 this year because along Metro Line 1, the land price is so high now that affordable houses cannot be developed anymore and the most employed people in Ho Chi Minh City live in the area along Metro Line 2"- A representative from C.T Group shared. The link between three parties: University - Human Resource Developer - Investor in human creates a completed value chain: Good training, good job - social security and career establishment. With the program of "Having a job is having a house", students will be assured of learning, employed people will have two in one: Job - house, solving many social problems at the same time.
Through the party, C.T Group has received many comments from leaders of prestigious universities in Ho Chi Minh City. Prof. Dr. Nguyen Dong Phong - Chairman of the Council of the University of Economics Ho Chi Minh City shared: "This event has created a connection, helping the universities to better understand the activities and mission of C.T Group. I believe that when C.T Group comes to universities to introduce more about your meaningful product, it will surely receive a lot of attention from lecturers and students who have cherished to have houses for themselves in the city."
Ms. Thao Kim - representative of JAC Recruitment Company said: "To me this is a very intimate, professional and sophisticated party. Especially, no company has ever organized a gratitude party for corporate partners in the recruitment sector as C.T Group did. Through this event, JAC also understands the vision and mission that CT Group would like to aim for, as well as recruitment plans. JAC hopes to have the opportunity to cooperate and accompany C.T Group in recruiting "right people, right jobs" in the future."
So far, the Good Seeds program has become a regular activity of C.T Group to unite businesses, universities and leading recruitment agencies in Vietnam.
* Sponsored story