Can Alibaba-backed Masan be Vietnam's 'everything' company?
Lien Hoang
Friday |

08/26/2022 12:49
---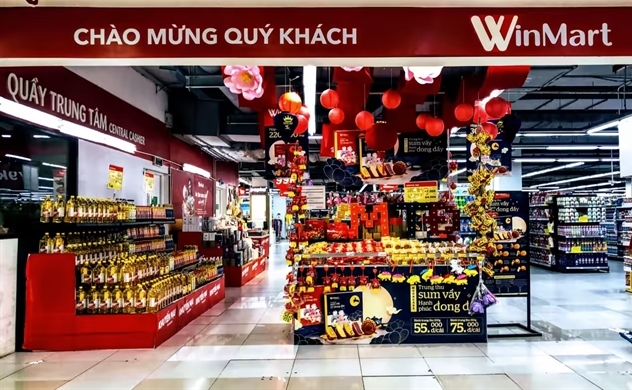 Vietnam's Masan weighs a sundry mix of businesses: a smartphone app, a tungsten mine and an Amazon-style blend of e-commerce with stores it took over from Vingroup. (Photo by Lien Hoang)
Retail giant juggles boring but profitable businesses with AI and IPO ambitions
Do shoppers want their soy sauce, insurance, phone plan, drugs, education and mail all from one business?
If so, consider Vietnam's sprawling Masan Group.
It is said, almost wryly, that the company is a fish sauce maker. In reality the conglomerate founded by Vietnam's fifth-richest man has 84 subsidiaries and associates spanning everything from mining to banking. It has pulled in investment from the likes of China's Alibaba and SK of South Korea while pushing into new technology, including e-commerce.
Masan Group has dabbled in dozens of businesses as the quarter-century-old firm determines what kind of company it will be. A food manufacturer or grocery chain? A lifestyle app or logistics savant? Maybe it will sell loan products with a side of lychee tea. Maybe it will sell stocks overseas, becoming Vietnam's only U.S.-listed company.
The juggling of tech and tradition will test whether it makes sense to combine such different businesses. One investor had hoped Masan could have been Vietnam's Amazon: an offline-online everything store. Through the Alibaba partnership, shoppers would be able order on Lazada and pick up at Vinmart (now WinMart), the supermarket brand Masan took over from Vingroup.
However, e-commerce sales remain minuscule. Instead, the company is turning its attention to physical marketplaces.
"Alibaba uses online solutions; we want to use offline solutions," CEO Danny Le told Nikkei Asia this month on the sidelines of an event where he described his company's future, including machine learning. But he also struck a skeptical note on chasing trends.
"The whole world is in love with this word 'technology,'" he said. "We don't believe technology by itself is a business model."
On the one hand, Masan is testing glitzy tech, recently investing in a startup whose machine learning could optimize inventory or target discounts to a specific customer. On the other, its meat-and-potatoes business is less flashy -- it still boils down to providing basic goods.
Last year, Masan raised $1.1 billion from investors like TPG, SK and sovereign funds of Abu Dhabi and Singapore. One round, led by Alibaba, was also a window into the company's strategy.
The Chinese internet marketplace goes beyond buying and selling. Le said its reach goes further by "empowering" third-party merchants, who use Alibaba solutions to source, ship or process payments for goods.
Masan aims to act as a similar platform, but offline. It will try to raise efficiency first in logistics for its own stores, forecasting demand in order to transport products in fuller containers and in less time, according to its latest annual report. The company said it then will pass on the logistics solutions to the 300,000 wet markets that buy its noodles, chicken and energy drinks.
But the quest to extend Masan's reach also risks stretching the company thin as it pours money into investments. The group reported a net loss after tax of 1.1 trillion dong ($46 million) in its separate financial statement in the first half of 2022.
"They probably are overextending themselves," RMIT University Vietnam finance lecturer Kok Seng Kiong said in a call. "But they can maybe afford to, because they've got other elements that are generating the profits."
He said many companies move into disparate business lines: Microsoft owns Xbox and LinkedIn; Toshiba has put its name on laptops and rice cookers.
In Vietnam, few companies resemble Japanese conglomerates or South Korea's family-run chaebol, though its billionaires have a penchant for turning their corporations into a potpourri of industries. Vingroup makes money in property but is testing the waters in electric vehicles and hospitals. Thaco makes cars but found itself with a convenience store franchise, to which it plans to add arcades and wedding venues.
As Masan expands, analyst Nguyen Tien Duc questions a planned foray into yet two more sectors, entertainment and education, likely via a smartphone app. The digital strategy is a far cry from the boring business of manufacturing instant porridge; it would involve convincing millions to use the app to watch content, take lessons, pay for groceries or order delivery.
Better to optimize its core strength in consumer goods a la Walmart, says Duc, senior analyst at Mirae Asset.
In future Masan land, a customer on a weekly grocery trip to WinMart might also pick up a prescription from Phano and a SIM card from Reddi, stop by a Techcombank booth to apply for a credit card, send mail and sip on coffee from a Phuc Long cart. All are brands partnering with the retailer, which calls this a mini-mall putting several kiosks "under one roof." Duc thinks it will save shoppers an extra trip.
"If you want to join a new business, you have to spend a lot of money and you need a lot of time for that business to make profit," he said by phone, adding that Masan already has "a lot of tasks to do each day."
Asked if its growing heft invites antitrust scrutiny, he suggested that its WinMart supermarkets compete for a different clientele from the wet markets, which also sell its sundry products.
But Masan's size raises questions about pairing odd businesses under one umbrella.
"Some foreign investors, however, might question whether consumer and mining businesses are a good fit and prefer a clean separation of the two," then-Dragon Capital Chief Marketing Officer Nick Ainsworth wrote last year for Vietnam Investment Review. He also did "not believe that overseas listing is a good or natural option for Masan to raise capital since their brand identity outside Vietnam is largely unknown." The Ho Chi Minh City-listed company has agreed with investors to launch an initial public offering of subsidiary CrownX.
In e-commerce, it wants to avoid "burning money" on the "overuse of promotions." The annual report said that in retail and consumer staples, threats include rivals' "irrational or predatory pricing" that force it to spend more on ads, discounts or distribution. Masan was Vietnam's fourth-biggest ad spender, Vndirect said in an October research note.
It also faces rivals like Thailand's Central Group, which recently allotted 30 billion baht ($848 million) to expand its grocery, electronics and athletics stores in Vietnam.
 
Source: Nikkei
Same category news