Bamboo Airways gets license to operate direct flight to US
Xuan Thinh
Wednesday |

11/11/2020 10:31
---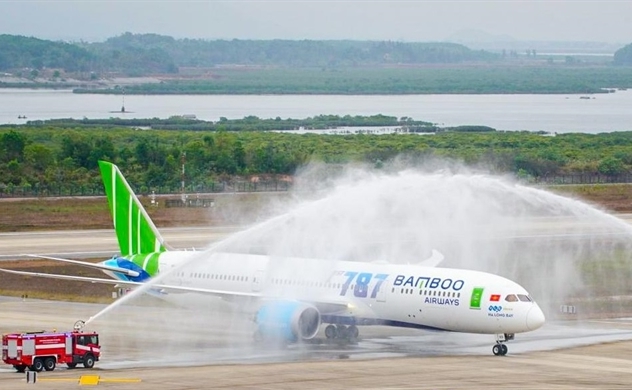 Bamboo Airways receives its first Boeing 787-9 Dreamliner in Quang Ninh. Photo: Bamboo Airways
Vietnamese private air carrier Bamboo Airways has been licensed to operate a direct route to the US, VietnamFinance cited Trinh Van Quyet, Chairman of FLC Group, parent company of the airline.
The US Department of Transportation has allowed the carrier to transport passengers, goods and parcels between the two countries.
Bamboo Airways is scheduled to operated the flights using Boeing 787-9 Dreamliner.
"This is one of the most important conditions for us to operate flights between Vietnam – US. This market has a great potential with about 700 thousand passengers per year", said Chairman Quyet.
According to the license granted by the US agency, Bamboo Airways is allowed to conduct non-connecting flights with wide-body aircraft Boeing 787-9 Dreamliner, between major airports in Vietnam including Hanoi and Ho Chi Minh City and US-based airports including Los Angeles and San Francisco.
"This license also opens up opportunities for the cooperation in the form of a partnership between Bamboo Airways and its partners in the US to exploit direct flights between Vietnam and the US in the near future", the Bamboo Airways Chairman emphasized.
It is expected that by the end of 2020 or early 2021, the carrier will conduct the first direct flight to the US.
Since 2003, Vietnam and the US have signed an agreement on aviation cooperation, allowing airlines from both countries to open direct flights with a frequency of one flight per day.
In 2010, the Civil Aviation Authority of Vietnam reviewed and reassessed the agreement, concluding that there are no restrictions or obstacles on passengers, flight frequency ... to apply for permission to open flights connecting the two countries.
In early 2019, the Vietnamese authority obtained the US certification of aviation safety surveillance capability level 1. This is a prerequisite for Vietnamese airlines to apply for permits to fly to the US and to codeshare with US airlines.
Source: VietnamFinance
Hot news of the day
Latest news