Apax Leaders promises refund in November
Nhat Le
Thursday |

03/16/2023 16:48
---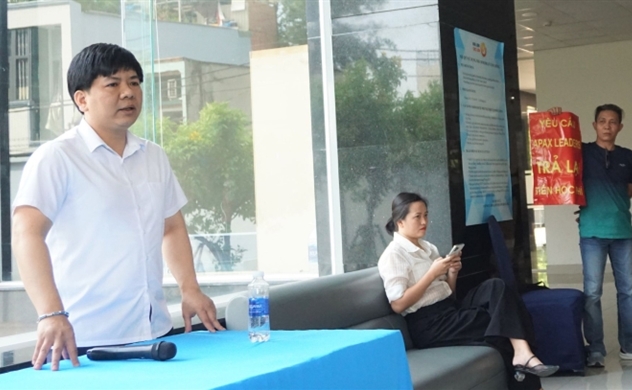 Nguyen Ngoc Thuy (L), chairman of Apax Holdings, speaks to students parents in Ho Chi Minh City on Mar. 15, 2023. Photo by VnExpress/Nhat Le.
English teaching center Apax Leaders could start refunding students' fees in November and plans to soon reopen facilities in Ho Chi Minh City, Apax Holdings has said.
Chairman of Apax Holdings, the parent company, Nguyen Ngoc Thuy, apologized to nearly 200 parents of students at a meeting Wednesday afternoon in HCMC for the disruption in teaching.
The meeting was held after the parents, including many who have paid for tuition fee years in advance, complained to the police that Apax Leaders had not been holding classes for months.
Nguyen Anh Tuan, CEO of Apax Holdings, told the parents that four facilities in HCMC and one in Binh Duong Province would reopen on March 21.
Nine more would open in prime locations in HCMC, he added.
But the irate parents who showed up with banners demanding refunds told the company bosses that they had lost faith in them and did not trust the restructuring process.
One of them, Nguyen Anh Tuan, said: "We just want our money back. The leaders need to provide a plan for refunds."
Many parents had to borrow from banks to pay the tuition in advance and they are now burdened with interest, he added.
My Linh of Tan Binh District said for a long time her child had to study with a black-and-white photocopy of a book, and Apax Leaders had unexpectedly canceled classes many times.
It had also failed to honor its promise to have 100% foreign teachers, she said.
"I am angry about the long waiting time. I need the refund so I can send my child to another school."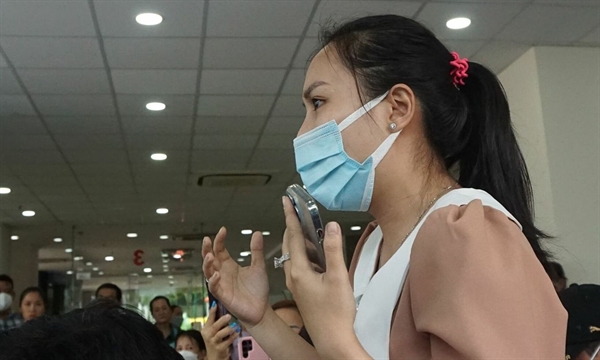 My Linh, a mother of an Apax Leaders student, speaks at a meeting between Apax Holdings leaders and students' parents in Ho Chi Minh City on Mar. 15, 2023. Photo by VnExpress/Nhat Le.
Thuy promised refunds to all in November, but claimed for now the resources had to be prioritized for reopening centers.
Apax Leaders has identified 1,350 students who have not completed all the lessons that they had paid for, and it would complete this process in April, he said.
The chain had over 16,000 students in the south when it shut down, he said.
It had 120 centers nationwide at one point, its website says.
Starting in September last year many students' parents in HCMC, Dak Lak, Da Nang, and other places began to complain about the teaching quality and accused the chain of "running away" with their money.
In HCMC only one center on Phan Xich Long Road, Phu Nhuan District, is open.
Source: VnExpress