Alibaba, Baring Private Equity Asia invest $400 mln in Masan's retail arm
Van Dat
Tuesday |

05/18/2021 10:39
---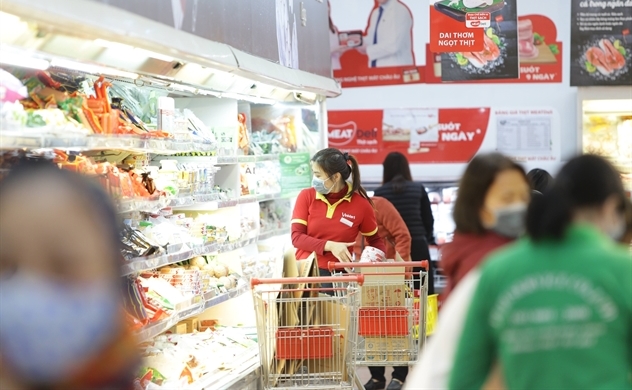 Photo: Masan Group
A consortium formed by Alibaba Group and Baring Private Equity Asia agreed to inject $400 million into The CrownX, an integrated consumer retail arm of Masan Group, according to a statement.
Under the deal, the consortium acquired a 5.5% stake in the Masan's integrated consumer retail arm that consolidates its interests in Masan Consumer Holdings and VinCommerce.
The transaction implies a pre-money valuation of $6.9 billion for 100% of its equity, an equivalent of $93.5 per share. Masan will own 80.2% of the company after the consortium's investment, according to the statement.
The formation of The CrownX last year brought together two industry leaders to form a consumer and retail powerhouse. As part of Alibaba's investment, The CrownX will now partner with Lazada to build the Company's digital presence and capabilities and accelerate the offline to online market in Vietnam.
With this partnership, the Transaction marks a shared vision across the Company's shareholders that The CrownX has the potential to establish Vietnam's first tech-enabled consumer ecosystem and expand its reach to serve consumers nationwide.
The strategic partnership is expected to accelerate The CrownX's goal of transforming into a one-stop shop to serve consumers' everyday needs, said Danny Le, Chief Executive Officer of Masan Group.
"Our immediate priority is to modernize Vietnam's grocery market and develop an unparalleled consumer proposition from assortment to shopping experience. I strongly believe that this partnership will reduce our learning curve and enable us to reach our endgame more efficiently and effectively, he added.
"We are delighted to be partnering with Masan and Alibaba, and believe this strategic investment has the potential to supercharge The CrownX's growth in a nascent retail market and create the largest consumer ecosystem in Vietnam. As a long-term investor in the country, we think Vietnam has a long runway for growth supported by strong macroeconomic tailwinds and attractive demographics," said Janice Leow, Managing Director at BPEA. "The CrownX also has tremendous digital potential, particularly in e-commerce and data analytics. BPEA prioritizes digital transformation in all of our portfolio companies, and we look forward to working with the Company in its next stage of growth."
Grocery accounts for 50% of Vietnam's retail market and 25% of consumer wallet share and is of essential daily use, but online penetration is still nascent. Masan has aspirations for The CrownX's online Gross Merchandise Value to account for at least 5% of its total sales value in the upcoming years.
Credit Suisse acted as the exclusive financial advisor to Masan Group. Deutsche Bank acted as the exclusive financial advisor to BPEA. The Transaction closing is subject to customary corporate approvals.
Masan is also in advanced discussions regarding a further strategic investment of $300 - 400 million into The CrownX from other investors, expected to close in 2021.
The CrownX is a consumer-retail platform that currently consolidates Masan's interests in MCH and VCM. The company was established with the vision to become a "Point of Life" platform in order to provide more products and services to Vietnamese consumers online and offline.
Alibaba Group's mission is to make it easy to do business anywhere. The company aims to build the future infrastructure of commerce. It envisions that its customers will meet, work and live at Alibaba, and that it will be a good company that lasts for 102 years, while Baring Private Equity Asia is one of the largest private alternative investment firms in Asia, with assets under management of $23 billion.
It manages a private equity investment program, sponsoring buyouts and providing growth capital to companies for expansion or acquisitions with a particular focus on the Asia Pacific region, as well as dedicated funds focused on private real estate and private credit.
The firm has a 24-year history and over 200 employees located across offices in Hong Kong, China, India, Japan, Australia, Singapore, and the US.
Latest news