Adidas remains investing to expand in Vietnam
Dai Le
Tuesday |

11/01/2022 15:59
---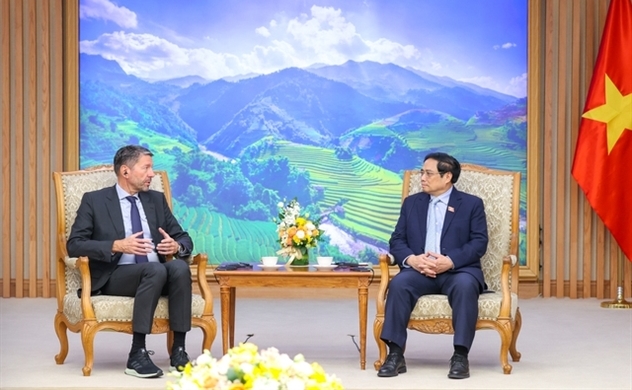 Prime Minister Pham Minh Chinh and Adidas CEO Kasper Rørsted at the meeting (Photo: VGP)
Adidas will continue to increase production, and business, scale up, and create more jobs for more employees, establishing Vietnam as a major Adidas production hub, according to Adidas CEO, Kasper Rørsted.
At the meeting between Prime Minister Pham Minh Chinh and Adidas CEO Kasper Rørsted, a representative of the Group from Germany, confirmed that Adidas would continue to rise the amount of materials produced in Vietnam to a bigger proportion of the Group's overall global production.
The Prime Ministry proposed that Adidas Group continue to grow its production and business in Vietnam in a longterm and sustainable while supporting  and creating conditions for more and more Vietnamese enterprises to participate in the stages of bringing high value to customers in Adidas's global supply chain
Trade and investment relations between Vietnam and Germany have achieved extraordinary results amid the Covid-19 outbreak. In 2021, bilateral trade turnover reached $11,22, up 12% over 2020. In the first nine months of 2022, it exceed $9,44, an increase of 16,6% compared to the same period in 2021. 
Regarding investment, Germany ranks 18th out of 139 nations and territories investing in Vietnam, and third among EU countries, with total registered investment capital of $2.33 billion.
The Prime Ministry also proposed that the Group accelerate the ratification of The EU-Vietnam Investment Protection Agreement (EVIPA) as soon as possible, creating an important driving force to enhance economic and investment cooperation between Vietnam and EU nations, creating more favorable conditions for Adidas' business and investment activity in Vietnam.
 
Source: Bao Dau Tu
Latest news