3 Key Factors helping WinCommerce achieve a profit turning point
Hoang Kim
Tuesday |

11/21/2023 09:59
---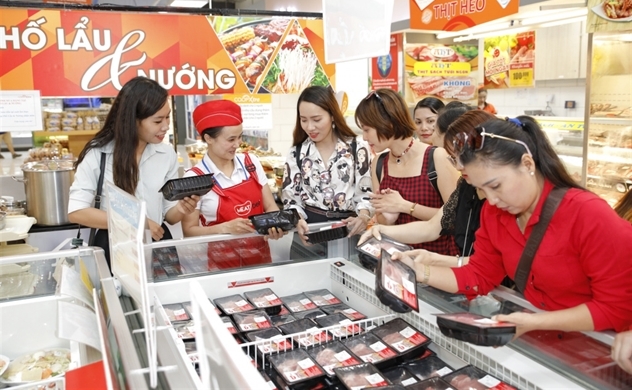 Consumers shop for MEATdeli chilled meat.
WCM's net revenue increased by 2.1% in the first 9 months of 2023 and by 3.3% in q.3/2023 compared to the same period last year, thanks to the opening of new stores.
According to the financial report for Q3/2023, 70% of WinCommerce's minimart group recorded a after-tax profit margin of 2.2%, marking two consecutive quarters of positive after-tax profit. This significant milestone instills confidence in the leadership regarding the path to achieving the break-even point of after-tax profit for the entire network by 2024, thanks to growth-oriented strategies. 
Despite the slow recovery of consumer sentiment and lower new store openings, WinCommerce (WCM) achieved healthy EBITDA growth in 3Q2023, reaching an EBITDA margin of 2.9%, up from 2.2% in 2Q2023 and 1.0% in 1Q2023. As a result, EBIT margin recorded flat in 3Q2023, on path to turn positive for the first time since Covid-19.  
The ideal store model caters to a variety of customer requirements 
In 2023, consumer spending is forecasted to become more cautious. However, most customers residing and working in upscale urban areas will not hesitate to spend; instead, they will be more discerning in brand selection and prioritize shopping experiences. 
After over 9 years of active operation in the retail industry with two models, supermarkets, and convenience stores, WinCommerce retail chain has implementing a premium supermarket model located in prime locations in major cities such as Hanoi and Ho Chi Minh City. This model targets customers with high income, high social status, and busy lifestyles, demanding multiple needs in one-stop shopping destination. Alongside this, aiming to serve a diverse customer base, the company has introduced the Winmart+ Rural model, a key component in the strategy to conquer the rural market, featuring a portfolio of competitively priced domestic products, mid-range imported fruits, and a strong focus on promotions.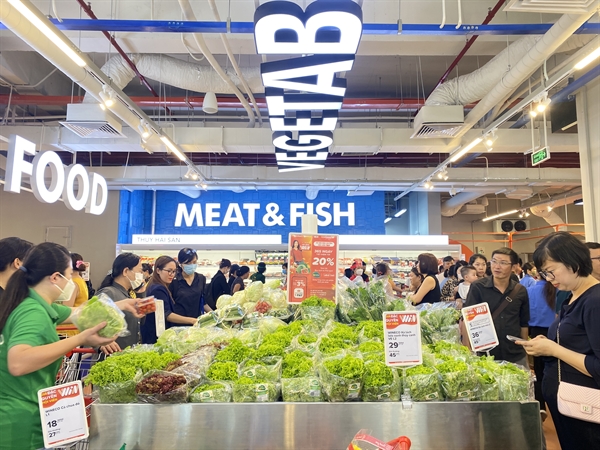 As a result, the performance of WCM's store models is clearly reflected in the financial report for Q3/2023 from Masan Group. Specifically, WCM's net revenue increased by 2.1% in the first 9 months of 2023 and by 3.3% in Q3/2023 compared to the same period last year, thanks to the opening of new stores. As of September 2023, WCM concluded with 3,586 stores nationwide, including mini supermarkets and supermarkets. 
According to reports, the Like-for-Like (LFL) revenue growth for WinMart+ improved to -5.9% in Q3/2023 compared to -9.6% in the first half of 2023. The LFL revenue growth of WinMart also improved to -3.8% in Q3/2023 compared to -7.7% in the first half of 2023." 
"Socialization of safe vegetables" with WinEco 
In the modern retail segment, WinCommerce has currently been the largest-scale retailer in Vietnam with more than 3,600 supermarkets and WinMart/WinMart+ stores in 62 provinces and cities nationwide. Maintaining a supply chain with over 90% Vietnamese products, this entity plays a crucial role as a bridge, assisting local businesses and manufacturers in delivering high-quality products to more than 32 million customers each month. In pursuit of its mission to "socialization of safe vegetables," WCM has introduced WinEco safe vegetable products with reasonable prices to consumers across its entire system.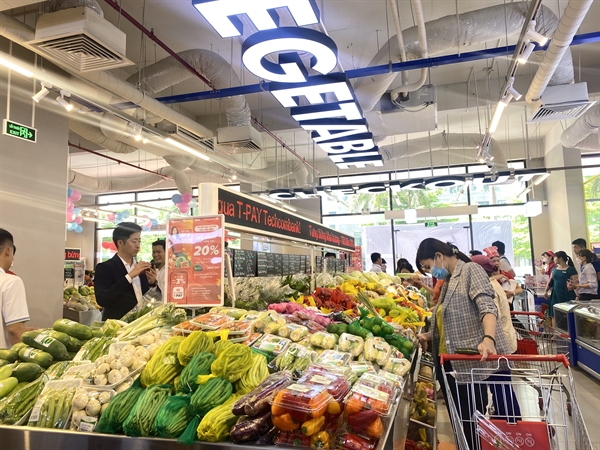 WinEco's fruits and vegetables are told to be invested and applied advanced technology from partners such as Netafim (Israel), Kubota (Japan), and Teshuva Agricultural Projects - TAP (Israel), qualifying VietGAP, GlobalGAP, and Organic standards when utilizing modern production technology with automated production lines. The quality is ensured under the guidance of experienced agricultural experts and engineers. 
The safe vegetable products, from farm to table, applied advanced scientific technology by WinEco, are a strategic move of WCM to win consumer's trust. 
Competitive pricing strategy accompanying consumers and local businesses 
Amidst economic challenges that have impacted consumer incomes, WinCommerce has disclosed a series of strategies aimed at contributing to price stability, stimulating demand, and alleviating the burden of inflation and costs for customers. 
Through programs and forums linked to the consumption of regional agricultural products, WinCommerce has proactively engaged with suppliers. Currently, this retailer has been collaborating with over 200 agricultural product suppliers, including long-term buying contracts with suppliers, co-operatives, and individual farmers to ensure the supermarket chain's supply. This initiative not only helps WCM secure a cost-effective supply to the market but also assists local businesses in ensuring a stable outlet. 
To reduce costs then offering competitive prices to consumers, WinCommerce has established an in-house logistics chain named Supra - since 2022, comprising 10 cold and dry warehouses across all three regions. In its first year of operation, Supra contributed to a 13% reduction in logistics costs for goods delivered through the company's warehouse system. 
Total retail sales of goods in October
Moreover, in the effort to create values for consumers, the company has also implemented the WIN Membership program, allowing customers to purchase products at more discounted prices. After 10 months of implementation, WinCommerce's WIN Membership program has reached 7.2 million members. To enhance the benefits of the program, the company plans to collaborate with Phuc Long and Lazada, integrating the products and services of these entities into the platform. 
With customer-centric growth strategies, WinCommerce has positioned the role in the "golden time" of the Vietnamese consumer market, contributing to the economic growth goals set by the Government in 2023 and the coming time. 
Same category news