Vietnam 10th out of 53 countries in 'Covid resilience': Bloomberg
Luu Van Dat
Wednesday |

11/25/2020 21:17
---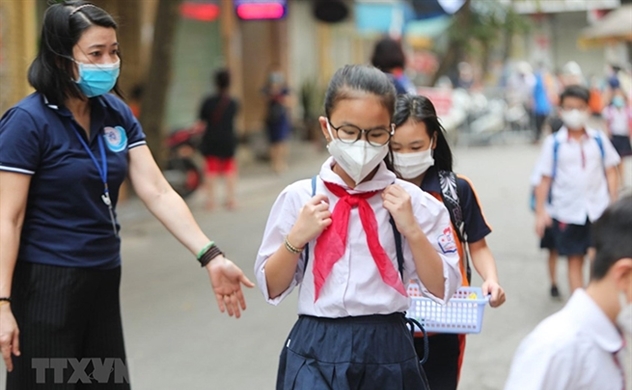 Students seen wearing mask while resuming school months ago. Photo: VNA
Vietnam ranked 10th out of 53 countries when it came to handling the biggest public-health crisis with the least amount of economic and social disruption, according to a Bloomberg survey.
Some advanced economies have struggled to mount an adequate response while others, among them small countries and developing markets, have unexpectedly triumphed and even eliminated the virus from within their communities.
"As we near the one-year anniversary of the emergence of this elusive and lethal coronavirus, millions of people are living largely normal lives, with businesses open and social events back on. Millions of others are hunkering down in new lockdowns and steeling themselves for a holiday season without social gatherings," says the report.
In the "Covid resilience ranking", Bloomberg studied the 53 largest economies on how they did along 10 key metrics, including increase in cases, mortality rate, healthcare system capacity, lockdown impact, community mobility, GDP growth forecast, and agreements on vaccine supply.
Each component gets a score from 0 to 100, with 100 being the best.
At the top of the rankings is New Zealand, with Bloomberg citing the island nation's "swift, decisive action" against the virus, while Mexico was ranked at the bottom of the list.
In Southeast Asia, Vietnam is the best with the 10th position. The Philippines' score of 48.9 places. Singapore (11), Thailand (15), Indonesia (19), and Malaysia (29).
Near Asian neighbors also scored much higher: Japan (2), Taiwan (3), South Korea (4), China (8), and Hong Kong (12).
"With a vaccine seen as the silver bullet that could end the pandemic, securing supply is an important component of an economy's Covid-19 response," it added.
As of Wednesday, Vietnam has 1,321 confirmed Covid-19 cases. The country has pass 84 days without new local infections, according to Ministry of Health.
► IMF revises upward Vietnam GDP growth forecast to 2.4%
Source: Bloomberg
Same category news